Apple's 15-inch MacBook Air doesn't have a fan, and instead uses a passive heat spreader to conduct heat away from Apple's energy efficient M2 chip. Curious to know if performance could be further improved with an active cooling solution, Frore Systems installed its own novel solid-state active cooling system into the laptop and subjected it to several benchmarks, with some impressive results.
Frore Systems is a startup with $116 million in funding, and its flagship product is the AirJet Mini, a virtually silent thermal solution with a piezoelectric cooling chip that its makers claim performs better than fans. Inside the AirJet are tiny membranes that vibrate at ultrasonic frequencies, pulling air into inlet vents at the top of the AirJet that exits through the bottom as high-velocity pulsating jets.
As shared by The Verge, head-to-head benchmarking tests initially showed the 15-inch ‌MacBook Air‌ with the AirJet Mini installed performed only slightly better than a standard ‌MacBook Air‌, but the modified laptop pulled ahead significantly as the tests wore on and the fanless ‌MacBook Air‌'s throttling kicked in to keep the temperature down.
Despite its slight dimensions, the 2.8mm thick AirJet took some work to install into the ‌MacBook Air‌'s slim chassis. Frore had to mill 0.3mm off from the laptop's lid to create adequate space for the airflow system, and also removed the speakers, Wi-Fi antenna, and internal keyboard connector in the process. For the rest of us, buying a MacBook Pro with a fan is definitely an easier option.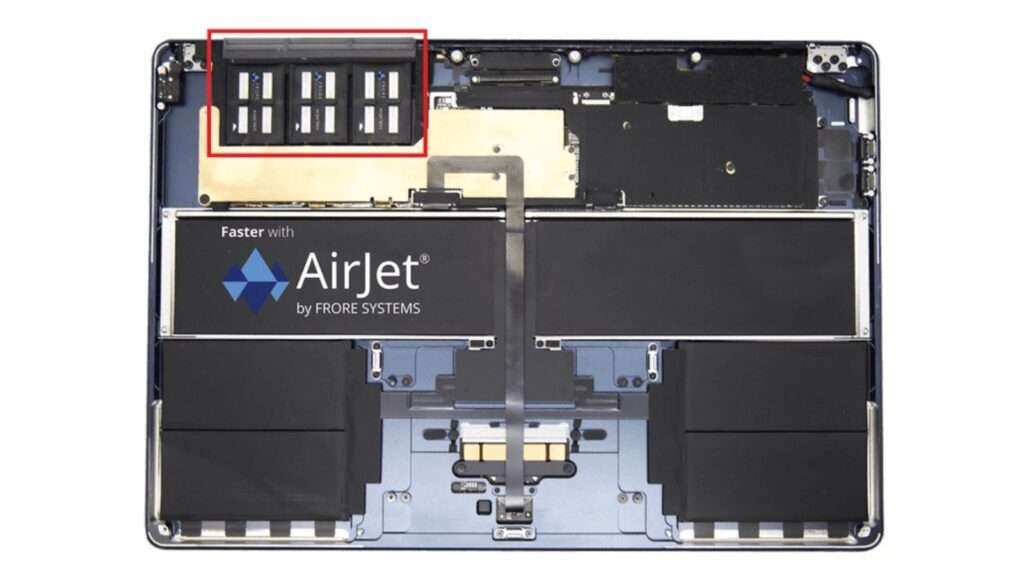 Another issue that wasn't addressed in the tests was the real-world impact of such a system on battery life. The Verge says the AirJet Mini drew five watts from the ‌MacBook Air‌'s USB-C port in the makeshift setup. Frore says its AirJet Mini chips require one watt of power when properly integrated into a laptop, and the system draws as little as 0.1W or 0.2W when idle, with the AirJet Minis themselves staying turned off until or unless they need to blow.
The AirJet system will debut in a $499 barebones Zotac mini-PC that requires constant connection to a power source, a use case in which battery life won't be an issue. But the startup has also prototyped 4K webcams, doorbell cameras, LED light bulbs, and more. It's too early to tell whether Frore's cooling system will be the next big thing in PC cooling tech, but the startup says the AirJet Mini is already in mass production, with larger and smaller versions in development.